Southwest Wisconsin Catholic Parishes: St. Mary's, Bloomington; St. Charles, Cassville; St. Mary's Help of Christians, Glen Haven & St. John's, Patch Grove
Welcome to our joint parish website!
Our website is easy to use and is compatible with new devices like smart phones and tablets.
Our "Home" page provides a quick overview of what's happening in our Parish without requiring you to "dig" for our most current information.
Our Mass Schedule for the upcoming seven days is now available on every page of our website.
Parish events have been organized into our new Events Calendar.
You will also find information about our Faith in our new Ministries, Education, and Sacraments sections.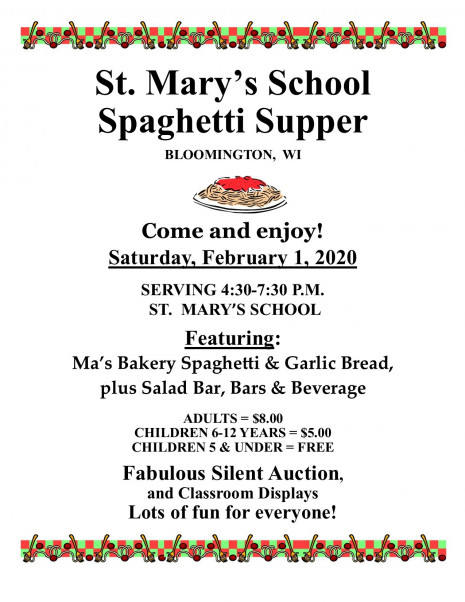 Parish Bulletin
Jan 23, 2020
1-26-2020 bulletin
St. Mary Learning Center 3-Year-Old Preschool
St. Mary's has a Three-Year-Old Preschool program. If you or someone you know is interested in more information about the daycare and preschool in Bloomington, WI, please contact us at 994-2526 or email sunday7@tds.net.
Upcoming Events
Feb. 1, 2020

4:30pm - 7:30pm

St. Mary School

St. Mary's School Spaghetti Supper

Feb. 1, 2020

4:30pm - 7:30pm
St. Mary School

Feb. 17, 2020

7:00pm - 8:30pm

St. Charles School

Joint Parish Council Meeting

Feb. 17, 2020

7:00pm - 8:30pm
St. Charles School

Mar. 6, 2020

4:30pm - 7:30pm

St. Mary Church

St. Mary's Fish Fry

Mar. 6, 2020

4:30pm - 7:30pm
St. Mary Church
More Events
St. Mary Church: 535 Congress St., PO Box 35 Bloomington, WI
St. Charles Church: 605 E. Dewey St. PO Box 166, Cassville, WI
St. Mary Help of Christians Church: 8808 4th St., Glen Haven, WI
St. John Church: 231 N. Wyalusing St., Patch Grove, WI
---