Southwest Wisconsin Catholic Parishes: St. Mary's, Bloomington; St. Charles, Cassville; St. Mary's Help of Christians, Glen Haven and St. John's, Patch Grove
Welcome to our joint parish website!
Come to Mass
I would like to invite everyone to MASS. I urge you to receive God's mercy in the Sacrament of Confession and to attend Mass. It is very important for us to participate in the sacrifice of the Mass and be strengthened and nourished by the receiving the very Body and Blood, Soul and Divinity of Christ in the holy Eucharist.
Sacraments
Confession: I am available to hear individual confessions on Mondays- 4:45-5:30 p.m. at St. Charles and 6-6:45 p.m. at St. Mary's, Bloomington
Thursday 7:30-8:00 a.m. St. Mary's, Bloomington
Saturday 3:30-4:15p.m. at St. Mary's or St. Charles, and 7:15-7:45 p.m. at St. Mary's Glenn Haven
Sunday 7:15-7:45 a.m. St. John, Patch Grove
Baptism: Please contact me to schedule the baptism of your child at your church and to attend a baptismal preparation session.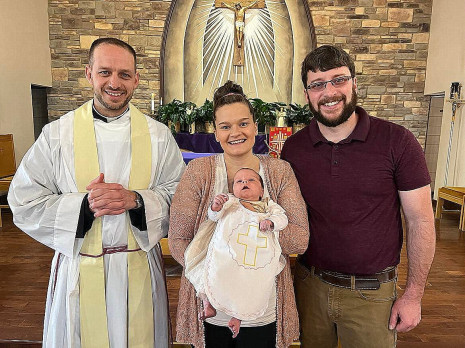 We joyfully welcome Athena Rebecca, daughter of Travis and Hillary to God's holy family.
Marriage: Please call me at least six months in advance of the wedding. One of the parties must be a practicing
Anointing of the Sick: I will be available as always for the Anointing of the Sick and Last Rites. Please call 994-2526 to receive these sacraments.
********************************************
Retirements:
We honored Principal and Teacher, Ms. Dianne Makovec and Custodian, Mr. Jeff Jensen for their dedicated service to St. Charles School. We wish them health and happiness in their retirement!