Southwest Wisconsin Catholic Parishes: St. Mary's, Bloomington; St. Charles, Cassville; St. Mary's Help of Christians, Glen Haven & St. John's, Patch Grove
Welcome to our joint parish website!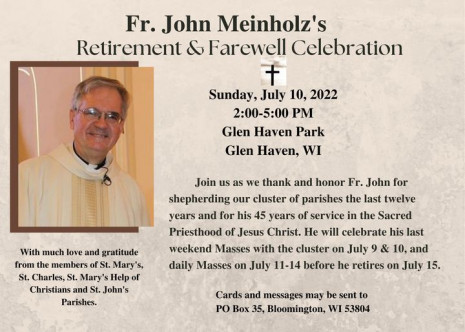 Dear parishioners,
During the last two years our lives have changed in so many ways. However, we need to keep what is important and essential in our lives. Our relationship to God is most essential and the Church guides and supports that relationship with God. With so many uncertainties, I hope and pray your faith and sense of belonging to the Church are a great comfort and support to you and your family.
Come to Mass
I would like to invite everyone to MASS. I urge you to receive God's mercy in the Sacrament of Confession and to attend Mass. It is very important for us to participate in the sacrifice of the Mass and be strengthened and nourished by the receiving the very Body and Blood, Soul and Divinity of Christ in the holy Eucharist.
As Bishop Donald Hying has stated, "We can never forget that, on the last night of His earthly life, as Jesus faced betrayal, arrest, mockery, torture, and the Cross, He was thinking of us, not Himself. At the Last Supper, the Lord wanted to give us the most profound, enduring, intimate, and saving expression of His love for us; wanting to remain with us always, He gave us Himself in the most Holy Eucharist. This Blessed Sacrament is the greatest gift the Lord could have offered us; as St. John Vianney reminds us if God had something better or greater to give us, He would have given us that." He also gave us the sacraments so that we may know god's grace and to seek his mercy and forgiveness for our sins.
Sacraments
Confession: I am available to hear individual confessions on Mondays at St. Charles Church from 4:45-5:30 p.m. and at St. Mary Church, Bloomington from 6:00-6:45 p.m.
Anointing of the Sick: I will be available as always for the Anointing of the Sick and Last Rites. Please call 994-2526 to receive these sacraments.
Baptism: Please contact me to schedule the baptism of your child at your church and to attend a baptismal preparation session.
Marriage: Please call me at least six months in advance of the wedding. One of the parties must be a practicing
Religious Education
Please click the Education area at the top of this page. It will take you to the Religious Education link which includes information for this year and links for the class calendar and registration forms.
St. Charles Choir
St. Charles Choir has shared songs that were recorded before the pandemic for everyone to enjoy.
HALLELUJAH
Easter Angel Song